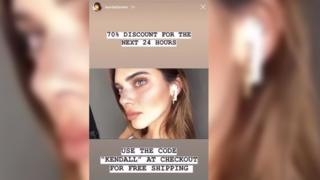 Kylie and Kendall Jenner are amongst dozens of influencers BBC Click has discovered to be promoting the sale of imitation Apple AirPods on Instagram.
The two celebrities have a combined following of 322 million followers.
Apple believes such cloned earphones may infringe its intellectual property rights, but is not pursuing a case against the two sisters.
However, the firm has taken previous action against influencers it believed to be hawking "knock-off" AirPods.
Kylie and Kendall Jenner declined to comment.
Lookalike tech
Click's investigation uncovered dozens of social media influencers promoting clones of Apple Airpods and Apple Watches.
The influencers do not hold stock of the goods themselves. Instead, they promote links to websites where anonymous sellers ship the products directly from China.
The products typically may be indistinguishable from the genuine items at first glance but feature different brand names on their packaging and sometimes deliver a poor user experience.
Promotion of such products can be regarded as being a copy